Persian Rug in Modern Context: ONH Sourcing Series 7
I chatted with an antique business owner recently and he said something that really struck me -- he said while he likes putting old rugs in his windows for display, he would never choose a traditional motif rug -- like a Sarouk or Kashan. He looked physically ill even talking about these types, for him it was tribal all the way. We each have our own tastes and preferences but I really and truly do believe that "traditional design" Persian rugs are very underrated. They can feel grandma-esque if you have the plastic covering over your couch to match but if you pair your traditional rug with modern or eclectic decor, it no longer looks so traditional or old lady but actually takes on a very cool and playful presence. A handmade rug is a work of art so it has to mix and match well with your style and other art but just as you would pick out pillows to have pops of color or interesting lines and shapes, your rug can be the perfect inspiration for a multifaceted kind of room. I read an article where they compared a classic oriental carpet to a classic Chanel suit -- they both truly never go out of style!
Here are my picks for awesome pairings of traditional rugs with hip and/or non super traditional decor.
\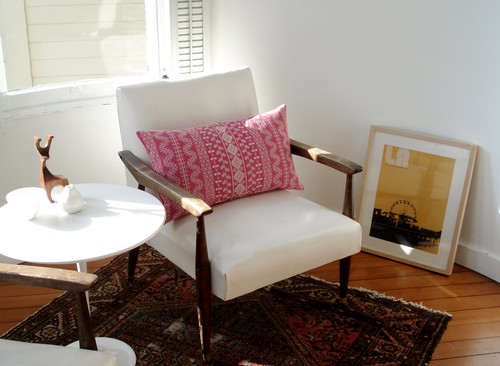 Now off to decorating my own house!
xoxo,
Melissa